1.11.0 Release Note
Changelog
Dynamic load QtAVWidgets in VideoOutput. QtAV::Widgets::registerRenderers() and QT += avwidgets is not requred now.
D3D11 decoder support. Not stable on Windows phone.
DXVA refactor and bug fix.
VA-API: fix memory leak when seeking
OpenGL:

Fix PBO binding
Custom shader support (WIP)
Edit and apply custom shader when playing. Based on Qt property system.
Optimize uniform update
GLSL filter support
Add OpenGLVideo.beforeRendering/afterRendering

CUDA:

Direct copy is default for windows. Now Rendering CUDA decoded frames is faster than any other players
0-copy is default for linux.
Use new API (4.0)

AVPlayer:

Add AVPlayer.stoppedAt signal
add setTimeRange()
setStart/StopPosition can be called at any time with any value
Ensure all threads are running when started is emitted
Support preload using load(). Now no reload in play()

Fix build with QT_NAMESPACE
Fix swscale color range
Fix linux install destinations
Add AVTranscoder.async, encoders are in individual threads
Add FrameReader class
Use FFmpeg 3.0 API
QML:

Support filters, including sw filters from libavfilter, and GLSL filter
Add MediaPlayer/Video.audioBackends property
Support autoLoad
Add VideoOutput.mapTo/FromXXX between source frame and item
Video EQ in VideoOutput/Video
Add MediaPlayer.startPosition/stopPotion

QMLPlayer: Open video and subtitle at the same time. History view. Zoom. Video EQ
Custom Shader and GLSL Filters
VideoShader API is not stable now because I'm lack of shader experience.
A custom VideoShader can be used through OpenGLVideo.setUserShader(VideoShader*). You can access OpenGLVideo through VideoRenderer.opengl() and GLSLFilter.opengl().
VideoShaderObject and DynamicShaderObject take advantages of QObject meta property and dynamic property features. It's possible to dynamically edit and apply shader code when rendering using DynamicShaderObject. DynamicShaderObject is also used in QML as VideoShader type.
Examples: shaders, glsl filter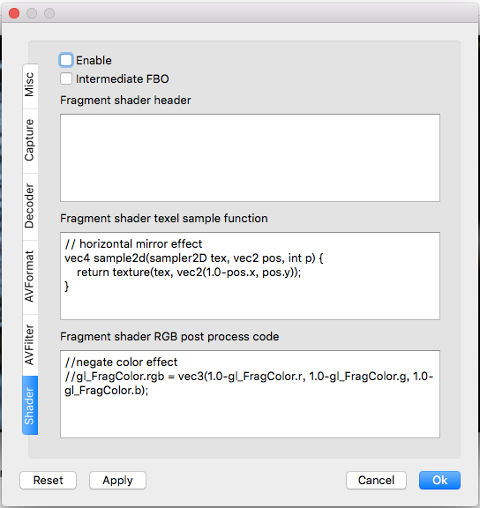 QML AudioFilter/VideoFilter
A QML AudioFilter/VideoFilter can be type of AVFilter and UserFilter. VideoFilter can also be type of VideoFilter .GLSLFilter. AVFilter is the default type. The supported filters can be retrieved by supportedAVFilters property. The avfilter property is avfilter options.
A VideoFilter can set a VideoShader as it's shader property to use custom shader when GLSLFilter type is enabled.
A VideoFilter can be installed to MediaPlayer/AVPlayer or VideoOutput2 as it's target. Only 1 target can be installed to for 1 filter. You can use an array of filters as a filter chain for MediaPlayer.videoFilters/AVPlayer.videoFilters and VideoOutput2.filters

import QtAV 1.7
...
VideoFilter {
    id: vf
    avfilter: "negate"
    ...
}
MediaPlayer {
    ...
    videoFilters: [vf]
}

Examples: avfilter, glsl filter