1.5.0 Release Note
Changelog
Add QtAVWidgets module contains widget based renderers, video preview widget
QtAV module only depends on QtCore and QtGui
Improve audio output API
Simplify deployment on OSX. Deploy sdk from release packages without build.
Improve seekable detection
Fix noise audio if volume increased
Fix noise and wrong playback speed for wmv videos
Preview is more accurate
Do not copy AVPacket but use reference count.
Faster audio track switch
Reopen audio output only if audio format changed
VideoFrame: new API for converting to another format or QImage
OpenGL VAO, VBO support.
QML

Fix some crashes in QQuickItemRenderer
Add FBO item renderer and use the same code path as other opengl renderers
timeout property

player and QMLPlayer example

player: real time preview on progress bar
Fast seek and display if seek shortcut is pressed and hold
All classes depedns on QtWidgets module are moved to QtAVWidgets module. Thus your QtWidgets is not required for your QtQuick app. For C++ developers, code changes a little
In pro file, add a line QT += avwidgets
In source files use QtAV or it's renderers, add
#include <QtAV>
#include <QtAVWidgets>

In main.cpp, call QtAV::Widgets::registerRenderers();
Real Time Preview
It was already used in QML module (and QMLPlayer) in previous release. Now it is also included in QtAVWidgets module and player example.

VideoPreviewWidget *preview = new VideoPreviewWidget();
preview->resize(160, 90);
preview->setFile("path_of_video");
...
// slot of slider value changed
preview->setTimestamp(value);
preview->preview();

screenshots: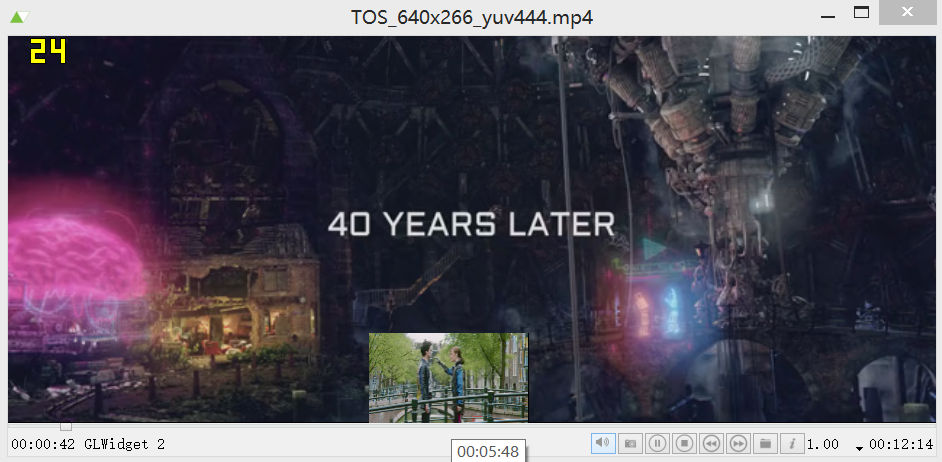 QML Video
QML VideoOutput item crashes a lot since OpenGL rendering was enabled in previous releases. Now most crashes are fixed, but 1 crash still exists(VideoFrame assignment). As a workaround, I add a new QML item VideoOutput2, which is QuickFBORenderer in C++. New renderer use the same OpenGL code path as renderers in QtAV and QtAVWidgets. It's easier to maintain. It works fine. One limitation I know is that it's parent items can not set layer.enabled: true. Otherwise VideoOutput2 will not update correctly. I don't know what is the solution. Tell me if you know.
To use VideoOutput2 and Video item you have to import QtAV 1.5.
Deploy QtAV SDK on OSX
Download the latest OSX player dmg, install player.app to /Applications. Run

  /Applications/player.app/sdk_osx.sh ~/Qt5.4.0/5.4/clang_64/lib
  

Assume your Qt5.4 is installed in ~/Qt5.4.0.
Now you can test your first QtAV app. Change QtAV/examples/simpleplayer/simpleplayer.pro content to

TEMPLATE = app
CONFIG -= app_bundle
QT += avwidgets av
HEADERS = playerwindow.h
SOURCES = playerwindow.cpp main.cpp

Open simpleplayer.pro in QtCreator, build and run.
About Released Binary Packages
https://sourceforge.net/projects/qtav/files/release/1.5.0