1.7.0 Release Note
Changelog
DXVA GPU zero-copy support
DXVA copy-back mode improvement
VAAPI zero-copy improvement
Fix opengl wrong display if switch decoder between VDA and FFmpeg
Video encoding support
External audio track support
Pulseaudio improvement, fix crashes and hang
OpenGL: disable VBO for ANGLE to workaround qpainter filters have no effect. Less GL calls. Fix OpenGLWindowRenderer can not update correctly
Fix capture video when a zero-copy HW decoder is used.
Fix wrong audio data is played at the beginning of playback
Enable XV shm
Improve a/v sync
Build android on windows
Fix msvc debug build
Use OpenSL ES as for android. It works correctly now. No OpenAL required any more. Add volume control for OpenSL ES.
Fix crashes
Add ubuntu PPA: https://launchpad.net/~wbsecg1/+archive/ubuntu/qtav
CI: appveyor for windows
AVInput=>MediaIO. You can use it to support custom output when encoding video
Add seekFinished, durationChanged, QML MediaPlayer.videoCapture, Subtitle delay etc
QMLPlayer: swipe to seek
DXVA 0-Copy
Before this version QtAV does not support zero-copy for DXVA. The decoded data must be read back from GPU and it wastes a lot of cpu time. Now the renderer can directly render the picture on GPU. The CPU load can be very low.
ANGLE (OpenGL ES2) is required to support 0-copy. Since Qt5.4, Qt supports dynamic OpenGL. Desktop OpenGL will be used if it's available. There are 2 ways to enable OpenGL ES:
qApp->setAttribute(Qt::AA_UseOpenGLES); at the beginning
set environment QT_OPENGL=angle
If OpenGL ES is used, 0-copy mode will be used for DXVA decoder in QtAV. You can force copy-back mode like this

    QVariantHash dec_opt(player->optionsForVideoCodec());
      dec_opt["copyMode"] = "OptimizedCopy"; // or "GenericCopy"
      player->setOptionsForVideoCodec(dec_opt);
    
  
The QMLPlayer example use OpenGL ES by default, You have to edit %HOME%\.QtAV\QMLPlayer.ini to change opengl.
The player example has a gui option to choose OpenGL ES or Desktop OpenGL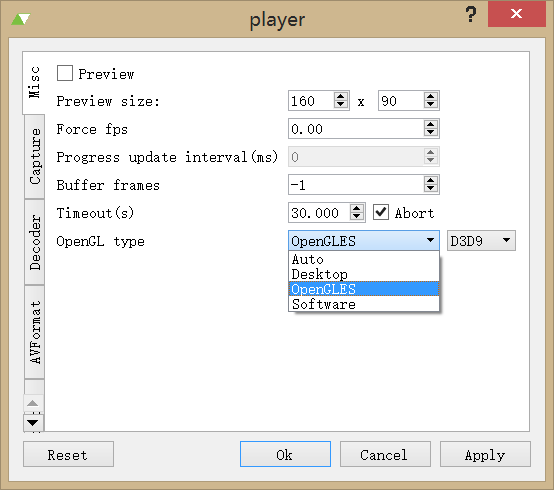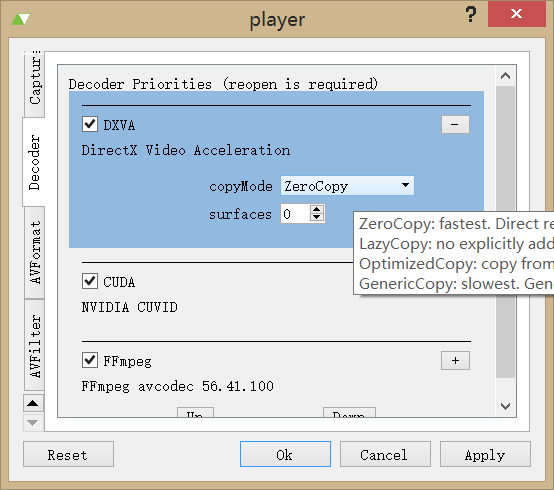 NOTE: git submode capi is required to build with 0-copy support
Desktop OpenGL + DXVA 0-copy
A WGL extension is required. https://www.opengl.org/registry/specs/NV/DX_interop.txt
I wrote the code but it and test for several GPUs. Only Intel HD4600 works.
Video Encoding
Video encoding support is still working in progress. Currently you can transcode video streams but not audio stream.
Try examples/simpletranscode.
CI
I use appveyor for windows build. When I push a commit to github, appveyor will build it and create a package. It's very helpful to watch the build issue. You can download the latest build from https://ci.appveyor.com/project/wang-bin/qtav/build/artifacts or https://sourceforge.net/projects/qtav/files/ci/